Stayner Outdoor Signs & Exterior Signs
View Outdoor Sign Gallery
Exterior signs are the #1 attractant of new customers and clients. With effective, eye-catching business identification and promotional outdoor signs and graphics custom created by SignEdge, you are sure to make a significant impact!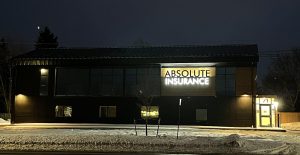 Whatever your exterior signage needs are, we can create it! SignEdge designs, fabricates, and installs every type of exterior sign you can think of, including storefront signs, portable signs, window displays, outdoor banners, yard signage, vehicle wraps, and more. From full sign collections to a single signage element, you can rest assured that your signage will support your marketing goals and increase your customer traffic.
Our graphic designers can work with any existing brand guidelines, utilizing your fonts, colours, and logos, or create new guidelines for maximum cohesion. This consistency is essential for reinforcing your brand and impressing customers with the professionalism they can expect from you. If you are looking for a dependable Stayner sign company, SignEdge is the right choice!
Call SignEdge at (705) 999-5332 for a Free Consultation with an Outdoor Sign Specialist!
Storefront & Building Signs

Selecting the right branded storefront sign to let your customers know you are ready to assist them, can be challenging. There are various exterior sign options available, and just as many considerations needed to be made, such as size, placement, and style.
Business storefront signs are available in a wide array of options; our knowledge signage experts can help ensure you have the right one for your business or organization! Not every company requires the same signs, so we discuss your location, brand personality, and budget to ensure that we are making the best recommendations for your business needs, with a focus on durability and longevity.
SignEdge listens to your goals and needs, taking into consideration your physical location, competition, and how traffic flows in and around your business to determine what business signage solutions will best attract potential customers and help you achieve market success.
Channel Letters & Dimensional Letters
Channel letters and dimensional letters are popular choices among various industries. They offer a highly-customizable option that provides an attractive finish that looks and feels more like an extension of your storefront rather than an addition. Add letters, symbols, numbers, or even your logo to your building facade with eye-catching channel letters or dimensional letters!
These solutions are entirely custom-made for your brand and business, allowing you to control everything from the text itself to colours, fonts, and placement. We provide expert recommendations for you along the way to ensure you are getting an effective sign that will be easily read and understood by anyone passing by.
Channel letters work well for all business types and locations and are an extremely versatile and highly-customizable option for any brand.
Lighted Signs
Not many businesses operate only when it bright and sunny out. If you want a solution that will attract customers in every weather condition and time of day, then lighted signs are the perfect choice for your building.
SignEdge offers many lighted sign options, including illuminated channel letters, backlit dimension letters, cabinet signs, and even digital message boards and displays. If you miss the retro neon feel, but want a solution that is budget friendly, environmentally friendly, and will last longer, then LED signs are for you! LED signs mimic the look of neon at a fraction of the cost, require less maintenance, and produce less waste, all while consuming far less power.
Lighted signs draw customers like a moth to a flame and are ideal for theaters, nightclubs, bars, comedy clubs, restaurants, convenience stores, retail businesses, gas stations, and more.
Canopy & Awning Signs
Canopy signs are a unique, eye-catching way to display your brand and business name while also offering protection from the elements to your customers and storefront.
An awning sign can be made using various materials; however, they are commonly created using a stretched canvas that provides an overhang to the entrance or windows of your business. These typically have your business information printed directly onto the canvas, displaying your name, brand, logo, or other information you desire.
Canopy signs are commonly chosen due to the boutique feel that they provide, and are popular for salons, jewelry stores, specialty shops, galleries, hotels, and shopping centers that desire (or require) uniformity.
Pole Signs & Pylon Signs
If you need to increase your visibility and attract customers from a greater distance, pylon signs, pole, signs, and tenant signs may be the solution for you!
These signs tower high into the sky and are used to reach a wider audience for buildings or businesses who may not have adequate road frontage or are situated near a major roadway or interstate. These signs are available in various heights, sizes, and display types. Crafted using one pole or two, they can include lighted cabinet elements, digital displays, or can have multiple panels featuring all of the stores located within a shopping centre.
If you are looking for a great way to get your brand seen and remembered, pole signs are an outstanding choice for many different business types.
Pole signs deliver the ultimate in business visibility, attracting the attention of passing motorists to fast food, retail shopping centers, gas stations, superstores and supermarkets, and businesses which may not have the benefit of direct road frontage.
Complete Exterior Signage Provider
SignEdge believes that every business and brand can benefit from the visibility and brand building power that outdoor signage offers. Whether you are looking for eye-catching promotional signage to highlight your products or services, or attractive wayfinding signage to improve your customer's experience, SignEdge has the tools, resources, and knowledge to help you achieve any signage goal.
We craft every type of exterior sign you could ever need, including real estate signs, post and panel signs, A-frame signs, yard signs, vehicle wraps, blade signs, vinyl window signs, wind signs, or any custom sign you may need.
Looking for cohesive indoor signs? We do that, too! Whatever your need, SignEdge has you covered!
Our other exterior signs include:
Don't see the sign you want? This list is but a small sample of the comprehensive Stayner signage solutions we offer! Our expert consultants and project managers are eager to discuss your signage needs and show you how our solutions take your business to the next level.
Full-Service Exterior Sign Company
SignEdge offers a wide selection of exterior signs for every Stayner, ON business. We include you in every aspect of the sign making process, including design, fabrication, and installation. If you already have existing signs, we can utilize them to maximize consistency, or create an entirely new signage plan for your business.

We provide complete design services, so if you don't have a graphic designer or aren't sure where to start, we have you covered. We assist designing outdoor banners, real estate signs, lighted exterior signs, storefront signage, and any other sign elements you may desire. Our highly-experienced team of graphic designers is eager to discuss your signage needs!
Our sign production facility, located right here, allows us to ensure that all of your signage elements are correctly manufactured and match your approved project, as well as sourcing any components your sign needs for installation. If you sign requires permitting, we will also take care of that for you!
When your sign is ready to install, our professional installation team is ready to assist you. While many of our signage products can be self-installed, some of our more complex signs should be installed professionally to ensure that your sign is safely and correctly installed.
Free Outdoor Sign Consultation
SignEdge is your local source for attractive, compelling Stayner outdoor signs. Whether you need a dynamic promotional window display or a towering pole sign that lets everyone know you exist, we have you covered! We can't wait to prove to you why we are a leader in the sign making industry, and how our signs can help you continue to grow your business and achieve your marketing goals.
Call SignEdge at (705) 999-5332 for a Free Consultation with an Exterior Sign Specialist!